If you have by a shirt or a white cotton scarf, you can give her new life with a color effect very delicate and natural, as is only natural that you will use the dye to color it! If you do not want to use chemical dyes and at the same time save money, you should definitely try this method to get the colors from the incredible shades.
All you will need is the fruit or vegetable, salt and vinegar, and you're done! Said by Internetages, it's important that the vintage fabric is 100% cotton because the synthetic parts do not react to the dye.
Which plants for which colors?
Blueberries, blackberries and red cabbage will give you some beautiful blue, raspberry and beetroot give a very saturated red, orange is obtained from the ocher and yellow, from spinach green, while the skins of onions give a clear orange tint. Elderberries give violets colors. You can also mix more vegetables together to make different colors.
Necessary
Fruits and vegetables of your choice for the dye (roughly serve a cup of vegetables or fruit cut into small pieces, for each shade)
Salt
White vinegar
medium sized pots
Wooden spoon
trays or glass jars
Procedure
Boil chopped each ingredient in a pot for about 1 hour, over medium heat. The amount of water required is about two cups per cup of fruit or vegetables.
Once cooled filtered colored water in the jars or bowls, depending on the amount.
At the same time prepare the fabric for dyeing, creating a stain that will serve to fix the color.Immerse the cloth in a pot with an amount of salt equal to 1/4 of cup and 4 cups of water, if our tint is obtained from the fruit. If instead we use from vegetable dyes, the fabric should be boiled in 1 cup of vinegar and 4 of water. Boil for 1 hour.
Rinse the cloth under cold water and then dip it again in a pot with the dye chosen. Make it boil for another hour, stirring occasionally gently with a wooden spoon. You will see how the fabric is dyed immediately of the chosen color and will be beautiful!
Let the cloth soaked in the dye overnight, of course not on fire! A lot of color in this way will absorb and retain a solid and lasting in time. Do not panic if you seem too dark, because once rinsed and dried the final color will be much more delicate.
To review the proceedings and discover additional ingredients to be used for dyes, such as spices and pomegranate, check out this tutorial !
Not only solid color!
Once learned the basic procedure, we can also apply more dye baths of a single cloth, to achieve different effects and more charges tints. It is also interesting to create decorations or fantasies like these.
And finally, here's a video DIY to dye our T-shirt with tea or coffee!
Gallery
Natural Causes: How to Dye Fabric with Fruit – Maybe Taylor
Source: maybetaylor.wordpress.com
For the Makers: How to Use Natural Dyes on Fabric
Source: www.forthemakers.com
Make Natural Non Toxic Dye in Hot Pink
Source: craftingagreenworld.com
How To: Make Natural Dyes from Common Food Items!
Source: www.pinterest.com
Dyeing Fabric with Fruit
Source: www.seamwork.com
Dye a Shirt With Veggies and Fruits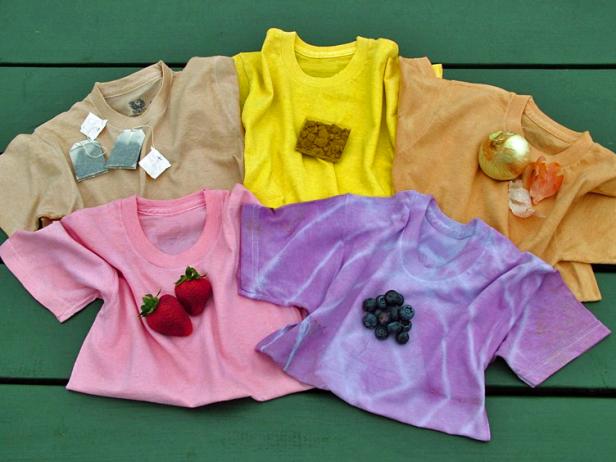 Source: www.hgtv.com
Dyeing Fabric with Fruit
Source: www.seamwork.com
32 best images about Natural Dyes
Source: www.pinterest.com
141 best Natural Dyes images on Pinterest
Source: www.pinterest.com
Dyeing Fabric Using Items From Nature
Source: www.craftsy.com
40 Best images about Botanical Dye on Pinterest
Source: www.pinterest.com
Dyeing Fabric with Fruit
Source: www.seamwork.com
Dyeing Fabric with Fruit
Source: www.seamwork.com
True Blue Me & You: DIYs for Creatives • truebluemeandyou …
Source: truebluemeandyou.tumblr.com
Make Natural Dyes With Leftover Fruits and Vegetables
Source: www.pinterest.com
17 Best images about Natural Dyes on Pinterest
Source: www.pinterest.com
Make Natural Dyes With Leftover Fruits and Vegetables …
Source: www.pinterest.com
How to Dye Fabric With Natural Dyes
Source: earthdivasblog.com
Dyeing Fabric with Fruit
Source: www.seamwork.com
Make Natural Dyes With Leftover Fruits and Vegetables
Source: www.pinterest.com